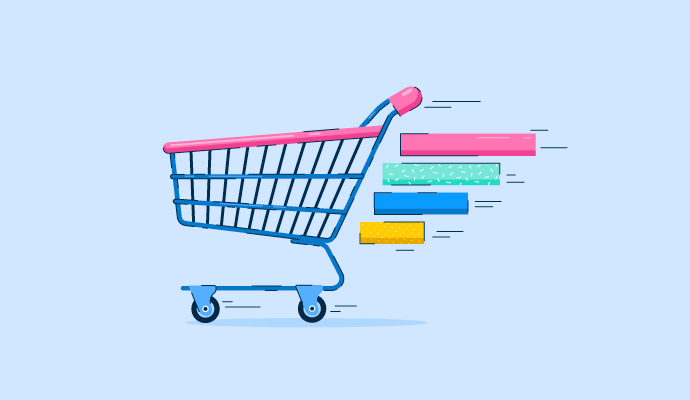 70 E-commerce Statistics and Trends You Should Know in 2023
E-commerce is the process of buying and selling products and services online. Customers use electronic payments to make purchases from websites and online stores. Many merchants use an e-commerce platform to manage all operations related to online sales. 
Owning an e-commerce business is becoming a popular technique for making money. Electronic commerce has been around since Amazon started selling books in the early 1990s, but it has grown immensely in the past few years.
Keep reading for e-commerce statistics and use insightful data to analyze your business workflow.
Global e-commerce statistics
Global e-commerce is the sale of goods or services outside the geopolitical borders of a company's country of origin, typically referred to as the site of its formation or incorporation. Online sales and marketing are used to market and sell in non-native markets.
Below is a list of top e-commerce statistics that reveal how the digital world has changed the shopping experience in the physical world.
Global e-commerce sales hit an astonishing $4.9 trillion in 2021, and they're expected to rise to $6.4 trillion by 2024.
In 2021, 2.14 billion people across the globe made online purchases.
The market for online groceries could grow to $334 billion by 2025.
By 2025, the global online fashion market will reach $1.002 trillion. 
Consumers say that free shipping increases their willingness to shop online by 49%.
77% of internet buyers check product reviews before deciding.
54.8% of all e-commerce sales in 2021 were made via mobile devices.
The average e-commerce conversion rate is approximately 2.58%.
The Argentine e-retail market will increase by more than 25%, outpacing all other American nations.
With $1.8 trillion dollars in revenue, Asia is at the top of the list for e-commerce. 
In 2023, China can have a $43.67 billion revenue lead in the global footwear e-commerce market.
Between 2023 and 2027, Brazil will lead the world in developing retail e-commerce.
Biggest e-commerce company statistics
E-commerce is a rapidly developing business that has transformed how people buy and sell things online. While many customers primarily identify e-commerce with purchasing things, it refers to all business dealings made possible by the Internet. E-commerce has increased due to the expansion of traditional brick-and-mortar stores like Target and Best Buy and globally recognized online marketplaces with a digitally native business model, such as Amazon and Alibaba. 
Let's explore more statistics on big e-commerce companies to know how they are growing in their industry.
In 2022, Alibaba Group ranked as the top global retailer on the internet.
Up to 57% of online shoppers have acknowledged doing business internationally.
For e-commerce companies, Facebook advertising has an average conversion rate of 9.21%.
After watching a video ad, YouTube visitors are 1.9 times more likely to make a purchase.
In 2021, 55% of online buyers claimed to have bought something after seeing it in a Facebook Story.
Compared to those who are sent to an external website, Instagram Checkout users are 70% more likely to finish their transactions.
For e-commerce marketers, the "TrueView for Shopping" ad format on YouTube has resulted in a 3x boost in conversion rates.
Walmart's online sales in the US totaled $64.9 billion in 2021.
Mobile e-commerce statistics 
E-commerce businesses have been improving their mobile user experience for years to increase their online sales. Any transactional activity completed via a mobile device is called mobile commerce or m-commerce. Convenience is one of the causes of the increase. Consumers can buy goods and services while on the move. 
The below statistics show how convenient e-commerce business has become through smartphones.
91% of people use their smartphones to make online transactions,
In 2023, it's anticipated that 6% of all retail purchases will come through mobile commerce.
More than $360 billion in sales were generated by mobile commerce in 2021.
By 2026, tablet mobile commerce revenues are expected to reach $54.01 billion.
By 2025, mobile commerce sales will represent $710 billion in total commerce revenues.
8.7% of all US retail transactions in 2026 will be made using mobile devices.
In 2021, at least one in three American internet users completed a purchase with their mobile device.
On Cyber Monday in 2017, mobile purchases exceeded $2 billion for the first time.
Compared to email marketing, online advertisements, and Facebook, people's friends have the largest effect on their mobile purchasing decisions.
Making CTA buttons, such as a click-to-call button, can increase clicks by 45%. 
73% of users will go from a mobile website that is poorly designed to one that facilitates purchases. 
Mobile applications have a 3 times greater conversion rate, compared to mobile websites.
While in a physical store, 65% of customers use their mobile devices to compare prices. 
During the holiday season, smartphones are used for 40% of all internet sales. 
 Bounce rates on mobile websites increase by 32% if page loading times go from 1 to 3 seconds. 
Retail e-commerce statistics
Retail purchases made from various gadgets have increased annually, fueling the e-commerce sector's rapid growth. As it expands, it will eventually take over retail stores.
Let's look at these statistics to learn more about the state of retail e-commerce.
E-commerce sales made up 21.3% of all retail sales worldwide in 2021.
Mobile users generated $3.56 trillion in retail e-commerce purchases in 2021.
Retail sales online were $4.9 trillion worldwide. And throughout the following four years, it's anticipated to rise by more than 50%.
Consumer electronics ($988.4 billion) and fashion ($904.5 billion) are the current highest spending categories.
Companies claim that their physical store retail sales revenue is roughly similar to online sales.
Online sales are predicted to account for 16.4% of retail sales in the US by 2023.
By 2026, there may be a 24% increase in online retail purchases.
Consumer behavior statistics
The change in the customer buying experience from in-person to online shopping characterizes this new era of retail. Customer loyalty has collapsed, with consumers switching brands at unprecedented rates. These stats speak for recent changes in customer behavior.
63% of consumers search online for products before purchasing.
Consumers are more likely to use brands that provide personalized experiences when shopping (84%).
Nearly 50% of internet buyers have taken a social media influencer's advice before making a purchase.
Over a third of US consumers (36%) have tried a new product brand, bringing the overall number of new buying behaviors they have attempted to 75%. 
Of consumers who tried a different brand, 73% stated they would keep looking for new ones.
After the pandemic, customers' desire to shop online has increased, particularly in necessities and home entertainment. 
46% of consumers made online purchases during the holiday season of 2021.
Roughly 56% of consumers between 18 and 24 years old and 47.5% of 14- to 17-year-olds have made at least one purchase on a social platform
Localized content increases the chances of a website's ability to generate sales by 2.67 times.
Facebook tops the list of most popular social media platforms for social commerce.
As many as 49% of social commerce shoppers' purchases were impacted by influencers.
Social media and e-commerce statistics
Social media and e-commerce complement each other like coffee and cream. E-commerce marketers use social media sites to build brand recognition, interact with customers, and promote products through targeted ads and natural posts.
The statistics below show the significant role social media plays in e-commerce in today's digital era.
25% of US consumers consult social media before making a present purchase for friends and family. 
Sales increase 32% when a store has a social media presence versus when it doesn't.
Instagram leads the pack with an average order value of $65, followed by Facebook at $55, Twitter at $46, and YouTube coming in with $38. 
Social media engagement increases by 66% for posts with under 80 characters.
After viewing an Instagram advertising post, 75% of Instagram users have taken some sort of action such as visiting a website.
Photos in posts increase likes, comments, and click-through rates by 53%, 104%, and 84%, respectively. 
During the 2018 Christmas e-commerce season, 24% of holiday sales were attributable to email marketing. 
60% of customers claim to have bought something because they got an email marketing communication. 
Emails about abandoned carts typically have a 45% open rate.
61% of people prefer communicating with brands over email. 
Convenience gets better
E-commerce's sheer accessibility has revolutionized buying for both customers and merchants. Customers can find almost anything, anytime, on any device. It's a vital aspect of the internet purchasing experience that consumers today expect. 
E-commerce opens up a whole new universe of customer information and insights for companies.. A strong e-commerce platform will automatically gather data from online buyers, enabling businesses to get to know their clients better and allowing them to make decisions about marketing and product development that have a real impact.
Learn more about exciting trends in the e-commerce industry in 2023.