Best E-Commerce Companies in 2022
Updated: March 23, 2022, 10:22 a.m.
Less than a generation ago, e-commerce was only in its infancy, born on the World Wide Web as a vision of entrepreneurs like Jeff Bezos.
Today, e-commerce accounts for almost $1 trillion in annual retail sales in the U.S., or 13% of the total retail industry, and $5 trillion globally, led by companies like Amazon (NASDAQ:AMZN), China's Alibaba Group (NASDAQ:BABA), and brick-and-mortar retailers like Home Depot (NYSE:HD).
The tremendous growth has propelled a number of big winners on the stock market, but there's still plenty of opportunity left in online retail. Annual e-commerce sales grew about 15% in the 2010s, and the adoption of online shopping accelerated during the COVID-19 pandemic. If you're looking for a list of the top e-commerce companies in the world, keep reading below.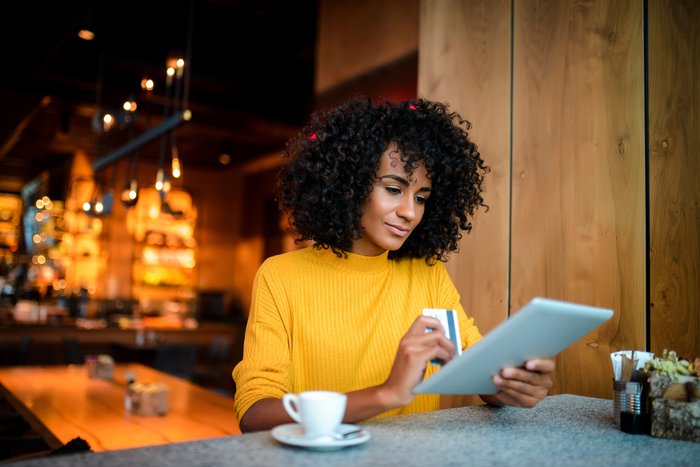 Top e-commerce stocks
Source: Yahoo Finance! Market cap data as of March 8, 2022.

| Company | Market capitalization | Description |
| --- | --- | --- |
| Amazon (NASDAQ:AMZN) | $1.4 trillion | Global e-commerce giant and cloud infrastructure leader |
| Shopify (NYSE:SHOP) | $65.4 billion | Global leader in e-commerce software |
| Etsy (NASDAQ:ETSY) | $17.6 billion | E-commerce marketplace operator focused on handmade products |
| MercadoLibre (NASDAQ:MELI) | $46.1 billion | Latin American e-commerce marketplace and payments company |
1. Amazon
For most American investors and consumers, Amazon is the first and last name in e-commerce. The company has essentially defined the space, launching in 1995 as an online bookseller before expanding into myriad other categories over the years. Its marketplace now has a whopping 350 million stock-keeping units (SKUs), or unique items for sale.
Without a direct e-commerce competitor in the U.S., Amazon has grown rapidly throughout its history, and innovations like its third-party marketplace (Fulfillment by Amazon) and Amazon Prime have all been key to its growth. The company has also built competitive advantages through real estate, opening a network of more than 100 fulfillment centers in the U.S.
Today, Amazon is by far the largest e-commerce company in the world by revenue. It's even challenging Walmart (NYSE:WMT) to be the biggest company in the world by revenue and will likely soon pass the brick-and-mortar giant in that category. Amazon finished 2021 with $470 billion in revenue, behind Walmart at $573 billion — but Amazon has historically grown much faster.
Thanks to its third-party marketplace, which now makes up the majority of sales on its site, Amazon has a larger gross merchandise volume (GMV) than Walmart, but it trails Chinese e-commerce giant Alibaba (NYSE:BABA) in that category.
Amazon has also built one of the world's largest cloud infrastructure services, which has become the primary profit engine for the company. Together, the e-commerce and cloud computing businesses create a massive set of competitive advantages for the company that should lead to continued outperformance for a stock that is up more than 100,000% since its IPO.
2. Shopify
Shopify has emerged in the last few years as Amazon's greatest competitor. The software-as-a-service (SaaS) company didn't do it by challenging Amazon directly in online retail or even by building an e-commerce marketplace. Instead, it's established itself as the tech infrastructure supporting more than 2 million merchants around the world, operations that range from mom-and-pop businesses to global brand giants like Kraft Heinz (NYSE:KHC).
Shopify provides all the tools that any business needs to run an e-commerce business. It includes everything from website building and a mobile app to services like marketing, payment processing, financial tracking, and even loans.
The company is the clear leader in e-commerce software, and Amazon even pulled the plug on its competitor product Amazon Webstore several years ago, recognizing that it couldn't catch Shopify.
CEO Tobi Lutke likes to call the company's strategy "arming the rebels," and that's helped drive exponential growth for Shopify, going from $389 million in revenue in 2016 to $4.6 billion in 2021. Profitability has also improved as the business has scaled up, just as it should with a SaaS business.
Although Shopify stock crashed in early 2022 along with other high-priced tech stocks, its growth remains strong, with revenue up 57% year over year in 2021.
3. Etsy
Operating an e-commerce marketplace has generally been more profitable than direct selling online. Marketplaces can benefit from scalability and network effects and don't have to spend on expensive physical infrastructure like fulfillment centers or worry about shipping costs.
Perhaps no pure-play e-commerce marketplace has been more successful than Etsy, which has carved out a niche in handmade and vintage products. It's especially popular for things like jewelry, gifts, and stationery like wedding invitations, and it has little direct competition in the artisan e-commerce space. Amazon has operated its own Amazon Handmade marketplace for several years but has failed to gain significant traction against Etsy.
Like other e-commerce stocks, Etsy's business skyrocketed during the pandemic, with sales more than doubling as shoppers and would-be entrepreneurs both turned to online channels to buy products and make money. Its active seller base jumped 72% to 7.5 million in 2021, showing it has a fast-growing global base of artisan-entrepreneurs, which helps attract more shoppers through network effects.
Etsy has also been expanding its business beyond its namesake website with acquisitions, including Reverb, a musical instrument resale marketplace; Depop, a new and used clothing marketplace; and Elo7, a Brazilian artisan-based marketplace comparable to Etsy.
With those moves, the company is aiming to apply the same strategy that worked so well for Etsy to other niche marketplaces, and that approach will significantly expand the company's addressable market over the long term, offering investors another reason to get behind the stock.
Streaming Service Stocks
The streaming industry is rapidly expanding as more companies compete for home entertainment dollars. Learn how to find the likely winners among them.
Consumer Staples Stocks
Learn to make money investing in consumer staples stocks. These are not volatile even during a recession and have historically provided small but steady growth.
Luxury Stocks
Get to know the hottest luxury brands on the market and consider whether they deserve the red carpet treatment all the way to your portfolio.
Retail Stocks
From brick-and-mortar to e-commerce and beyond, take advantage of the changing retail industry and make money by investing in the best retail stocks.
4. MercadoLibre
E-commerce isn't just a domestic phenomenon. Online shopping has taken off internationally as well. In Latin America, the clear leader is MercadoLibre (NASDAQ:MELI), which operates in 18 countries in Latin America but makes about half of its revenue in Brazil.
MercadoLibre's primary businesses include an e-commerce marketplace for both third- and first-party sales; shipping services through Mercado Envios; and a suite of financial services under the Mercado Pago umbrella, which includes mobile point-of-sale devices, digital wallets for consumers, and loans through Mercado Credito.
In some ways, MercadoLibre resembles a hybrid of Amazon and Shopify with some of the functions of a fintech company like Paypal (NASDAQ:PYPL); the formula has been just as successful in Latin America as in the U.S. For example, Mercado Pago was originally conceived as a tool to help MercadoLibre's marketplace, but it grew so fast that most payments processed through the service now come from the MercadoLibre platform, with Mercado Pago essentially functioning as a standalone business.
In 2021, total payment volume on Mercado Pago topped $75 billion, while GMV on the marketplace was about $30 billion. Overall, MercadoLibre is growing rapidly, with profitability increasing and revenue up 74% to $7.1 billion in 2021.
Considering that e-commerce in Latin America remains underpenetrated and the middle class is expanding quickly, MercadoLibre still has a large addressable market ahead that should offer the company many more years of high growth.
Are e-commerce stocks right for you?
E-commerce stocks offer a lot of upside potential for investors, but they do come with risks. Many e-commerce companies aren't profitable, and even the ones that are generally have only minimal profits.
Most e-commerce stocks also fell sharply in late 2021 and early 2022 as growth rates slowed after lapping the start of the pandemic and as market sentiment shifted away from growth stocks in anticipation of rising interest rates. However, that means now could be a great time to get exposure to this sector since many of these stocks are trading at a discount to their historical valuations.
Investors should be aware that e-commerce is riskier than most stock market sectors, but the track record of the stocks above show that just one successful e-commerce stock can deliver life-changing returns.
Recent articles
Amazon Stock Is Only Going to Climb
AWS continues to be an impressive avenue of growth.
Rachel Warren and Brian Withers |
Apr 9, 2022
Is Home Depot Silently Killing Your Portfolio?
Suddenly, Home Depot stock hasn't been the reliable winner you've come to expect.
Collin Brantmeyer |
Apr 9, 2022
This 1 Number Explains Why Amazon's New Ad Business Is Going to Be Huge
Brands have only begun to explore the potential of this new feature for an old sales platform.
James Brumley |
Apr 9, 2022
3 Robinhood Stocks Investors Can't Get Enough Of
They're solid long-term bets.
Adria Cimino |
Apr 9, 2022
Missed Out On Tesla? My Best Stock-Split Stock to Buy And Hold
Tesla has posted incredible stock gains since its last split, but this monster growth stock looks like a better buy.
Keith Noonan |
Apr 8, 2022
Why Amazon Stock Slumped Today
The company gets dinged again on the labor relations front.
Eric Volkman |
Apr 7, 2022
Looking for the Next Stock Split? 2 Top Growth Stocks to Buy Now
These e-commerce companies could be next in line to split their stocks.
Trevor Jennewine |
Apr 7, 2022
Amazon Stock: Headed to $5,000?
One analyst sees a big upside for the e-commerce leader's stock over the next 12 to 18 months.
John Ballard |
Apr 7, 2022
Have $1,000? These 2 Stocks Could Be Bargain Buys for 2022 and Beyond
These two stocks could be great ways to take advantage of the market downturn.
Jamie Louko |
Apr 7, 2022
2 Stocks to Buy Before the Next Recession
A downturn is coming, so it's best to be ready for it.
Rich Duprey |
Apr 7, 2022