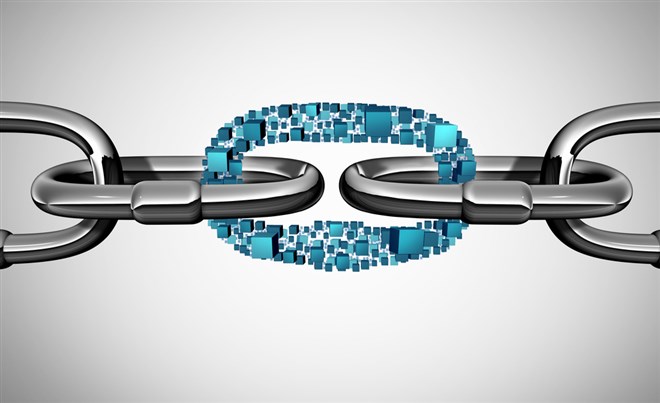 How to Invest in Blockchain Stocks Step by Step
Ready to learn how to invest in blockchain stocks? Blockchain stocks are stock market shares of companies involved with blockchains.
Propelled by the surge in cryptocurrency prices for assets such as bitcoin, blockchain technology stocks have also come up on people's radars as potential long-term investments.
This guide will take you through the best block chain stocks to consider adding to your portfolio and how to invest in blockchain in general.
What is Blockchain?
Blockchain technology is a revolutionary new system for securely and efficiently storing, managing and transferring information. It has the potential to revolutionize the way that businesses and governments operate as well as how people interact with each other. Understand the concept of a distributed ledger to understand what blockchain technology is and how it works.
A distributed ledger is a database shared across multiple computers or nodes, and every node has an identical copy of the ledger. This means that all transactions added to the ledger are visible to all nodes and constantly updated in real-time. The ledger is also cryptographically secured, which makes it highly secure and virtually impossible to alter or manipulate.
Blockchain technology is based on the distributed ledger concept, but it is a much more sophisticated and secure system. The blockchain is a decentralized, distributed, public digital ledger that records transactions across many computers. It is not owned or managed by any single entity and is resistant to data tampering and revision.
This technology has led to the impetus of cryptocurrencies such as bitcoin, Ethereum and many other altcoins.
Why Invest in Blockchain Technology?
One of the most attractive benefits of investing in blockchain technology is the potential for a high return on investment. Additionally, the technology is still in its infancy, so there is plenty of room for growth and development. You could see even higher returns on your investment in the future, which can be facilitated by buying blockchain stocks.
So what is blockchain stock? Blockchain stocks are companies that invest in or develop blockchain technology. Blockchain stocks allow investors to invest in the growing blockchain industry and benefit from its potential to disrupt the traditional financial system.
Furthermore, investing in blockchain technology also has a social and ethical component. By investing in blockchain-based projects, you are supporting projects designed to revolutionize how we do business and interact with the world around us. It could have a positive impact on society and the environment.
Overall, investing in blockchain technology offers a way to capitalize on this new technology. It could yield high returns and help make the world a better place. You can make a smart and responsible investment by investing in blockchain-based projects.
Companies Developing Blockchain
Here is a list of the best blockchain technology stocks. One thing that these companies have in common is that they are young and have small market capitalizations. Therefore, these companies are not considered blue-chip stocks.
Coinbase
Coinbase (NASDAQ: COIN) is one of the most well-known names in the blockchain world. The company offers a platform for users to buy, sell and store cryptocurrencies and provides merchant services and custodial solutions. Coinbase uses the blockchain to facilitate smart contracts to automate certain activities and transactions.
Riot Blockchain
Riot Blockchain (NASDAQ: RIOT) is a publicly-traded company founded in 2017 and primarily focused on the development of blockchain technology and its applications in the financial sector. The company works with leading firms in the blockchain industry to develop and implement innovative solutions to improve financial services.
Overstock
Overstock (NASDAQ: OSTK) uses blockchain technology to revolutionize how people buy and sell goods online. Overstock provides customers with an immutable and secure way to process payments while eliminating the need for intermediaries. Overstock uses blockchain technology to give customers access to a decentralized marketplace where they can buy and sell goods without a third party.
Square
Square (NYSE: SQ) is a digital payments company that explores blockchain technology. It has developed a platform for users to buy and sell cryptocurrencies and integrates blockchain into its payment processing solutions.
How to Invest in Blockchain
Here are some steps to follow for how to buy blockchain stocks to help you answer "How do you invest in blockchain?" They'll help you choose the right blockchain company stock for your needs.
Step 1: Research blockchain companies.
The first step to researching any blockchain company involves understanding its business model. What services do they offer and what value do they provide to their customers?
The next step is to examine the company's financials. How much funding has it raised, and how much occurred through equity or debt? Is it profitable, and what are the projections for the future? You can also look at its customer base and how quickly it grows.
Finally, consider researching the company's reputation. What do other people say about the company? Have you seen negative reviews or reports? It's also a good idea to look into any awards or recognition the company has received.
Step 2: Choose a broker.
First, research the fees associated with the platform. Many platforms charge a commission on trades and can have additional fees for certain services. These fees can quickly add up, so find a broker that fits within your budget.
Second, determine what type of trading you will do and ensure the platform supports it. Different platforms offer different services and tools. Decide if you need access to automated trading, options trading, or margin trading.
Some platforms may be more user-friendly than others, so find one that is easy to navigate. Look at the features and tools offered and decide if they are intuitive and easy to use.
Step 3: Buy blockchain stocks.
Once you have identified a potential stock to invest in, you will need to decide how to buy it. You can buy the stock through a traditional stockbroker, or you can buy it directly from the company itself. Purchasing the stock directly from the company may be the more cost-effective option if you buy a large number of shares.
Finally, know the risks associated with investing in blockchain stocks. The technology is still relatively new, and there are few established players in the space. The volatile nature of the cryptocurrency market means that the value of your investment can go up or down rapidly. Know the risks and invest only in what you are comfortable with losing.
If you are interested in exploring crypto, consider reading our guide on diving into cryptocurrency stocks. You can also explore our bitcoin stocks to compare article.
Step 4: Monitor your investments.
The most basic way to monitor stocks is to follow their price movements regularly. You can do this manually by checking the market prices of stocks each day or through stock-tracking software. You can set up alerts to notify you when a stock price reaches a certain threshold. Stock tracking software often includes features for analyzing price patterns and trends, which can help an investor better understand the underlying forces driving a stock's price.
Another critical aspect of stock monitoring involves keeping an eye on news and events that may impact a stock's performance, such as earnings reports, new product announcements, changes in management, and other information that could affect the stock's price. Know any analyst ratings or recommendations because these can significantly impact a stock's price.
Step 5: Reevaluate regularly.
Reevaluating your stock investments helps you maintain a healthy portfolio and ensures that your investments work to their fullest potential. Doing so will help you identify any areas that need improvement and make any necessary adjustments to ensure that your investments align with your financial goals. 
If any stocks are underperforming, consider whether or not you should sell and replace them with more profitable investments. This could mean selling off any stocks that are not meeting your return expectations and investing in stocks with a higher potential for growth.
Next, review the financials of each stock, such as quarterly and annual reports. These will give you a better understanding of the company's performance and any potential risks associated with the stock. You can also identify any areas of potential growth as well as any potential risks.
As you learn more, you may change to a different investment, such as marijuana stocks. Here's what you should know about marijuana stocks.
Pros and Cons of Investing in Blockchain Stock
Here are the pros and cons of investing in blockchain stocks.
Pros
First, let's take a look at the benefits of investing in blockchain technology:
Diversification:

Investing in blockchain stocks can provide a more diverse portfolio, not limited to a particular sector or industry.

Potential for high returns:

Blockchain stocks can generate substantial returns, especially in the long term.

Innovation:

Investing in blockchain stocks means investors can gain exposure to the latest and greatest in the tech sector.

Accessibility:

Blockchain stocks are available to investors of all levels, including those accessible on major online trading platforms.
Cons
Now, the downsides to investing in blockchain stocks: 
Volatility:

Blockchain stocks are highly volatile and can be risky investments.

Limited investment opportunities:

There are currently limited options for investing in blockchain stocks.

Lack of research:

You may find blockchain stock research limited and challenging to locate.

Lack of expertise:

Investing in blockchain stocks requires a certain level of knowledge and experience.
Are Blockchain Stocks Right for You?
If you have the proper risk tolerance, blockchain stocks may help you improve the returns from your portfolio. However, consider carefully monitoring your investments and cutting your losses if your investments perform poorly.
Before you consider Riot Blockchain, you'll want to hear this.
MarketBeat keeps track of Wall Street's top-rated and best performing research analysts and the stocks they recommend to their clients on a daily basis. MarketBeat has identified the five stocks that top analysts are quietly whispering to their clients to buy now before the broader market catches on… and Riot Blockchain wasn't on the list.
While Riot Blockchain currently has a "Moderate Buy" rating among analysts, top-rated analysts believe these five stocks are better buys.
View The Five Stocks Here